Another trip down memory lane.
Macie's not doing great – have yet to get all her morning meds into her, because she's done with pumpkin and not big on food (unless it's the gravy off of Jasper's canned food).
I spent most of the late night last night researching what to feed an anaemic dog – unfortunately, most of the suggestions are things that are also high in copper.  So I've got a call in to the vet to ask if I can give her some boiled chicken and eggs, just to get SOMETHING into her.  (She even spit out a Banana Kablama, so I'm wondering if her teeth/jaw hurts?)
She's losing a ton of muscle mass, not eager to do the stairs.  Although happy to suck up OpenFarm bone broth, so I picked up some new cartons while dropping off Jasper at Ruff Haus.  She eats what she wants (as long as it's not copper-heavy).

1:30pm edit
I found a knuckle bone in the back of the freezer.  Her lethargy is gone  As is about half of the frozen marrow.  That oughta get some iron into her!
5:50pm edit
Some attention to Jasper.  He had his (regularly-scheduled) vet appointment today.  They told me he was getting chubby and should lay off the treats.  WHILE THEY KEPT FEEDING HIM TREATS, because he was giving them his adorable "please feed me" stare, which is irresistible if you haven't trained properly.  🤣
Other than giving him his vaccines & taking his annual blood work (I warned them not to find anything wrong with him!), they wanted to check up on Macie.  The lethargy and weakness today is almost definitely anaemia-related.
We decided to bring her in again on Thursday for some re-testing (so I can have the results before the weekend, and either stop catastrophizing or know what we're looking at).  And hopefully her liver levels are continuing in the direction they have been the last 2 weeks.
The vet agreed with my decision to not commit to any further testing or other procedures at the moment that would make Macie's last few days / weeks / whatever miserable, and that we shouldn't do anything that sends her system for a loop, until / unless stuff has stabilized, or there's a test that could definitely get us some answers that we could actually do something about.  If we're just poking around in the dark, there's no sense in causing further trauma.
So Macie takes the lead.  She's weak today, but she's still got her personality (which she did NOT have the week of the 27th), so as long as Macie is still Macie, and happy enough, we'll leave her alone for a few days and test her blood Thursday.  And then weekly, unless Macie decides she's done.  She's still cleaning Jasper's ears and fwapping her fwappity tail, so... the roller coaster continues.
8:50pm edit
They all want to help with the groceries!  🤣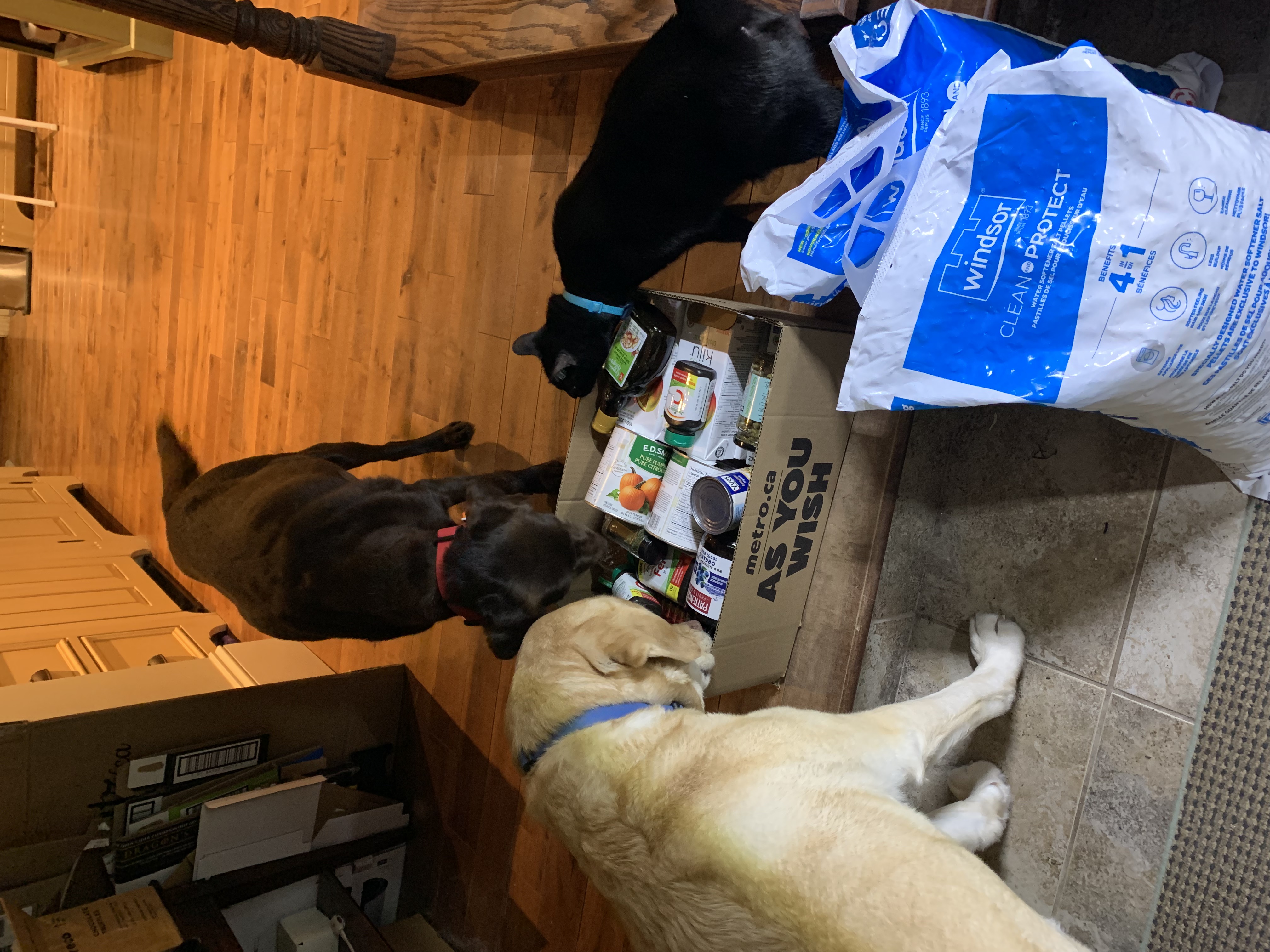 10:40pm edit
Dear Humans,
THERE IS BEEF IN THE REFRIGERATOR!!!!!!!
Love, 
Jasper