FASTEN YOUR SEATBELTS – I'm now adding "playwright" and "actor" to my CV!  Music For The Changing Voice, the not-a-one-woman-show that I created as a one-off for the artsLocal series in 2017, got picked up for Talk Is Free Theatre's mainstage season, and will be receiving its professional debut THIS MONTH, running April 25 - May 4 at Barrie's Five Points Theatre.
     Music For The Changing Voice is a show about finding beauty in the broken, and a voice to oppose the silence.  When my grandfather died, I inherited his cello – the first one I ever heard or played – which came to me shattered in many pieces, uplayable and unfixable.  Which kind of mirrors the other thing I inherited from him: the legacy of intergenerational interpersonal trauma.  When I brought my grandfather's broken cello to the luthier and asked him what I could do with it, he shrugged and suggested "make art" – so I've chosen to do that with the other part of my inheritance as well!  And so, while this one-act piece of musical theatre digs deep into difficult subjects, it's also uplifting, hope-filled, and even really funny in places.  (My cocktail-party quip is that "it's a cheery little musical about child abuse" – funnily enough, I haven't been invited to many cocktail parties recently...)
     I will be joined on stage by my fabulous musician-friends Leslie Arden (piano & vocals) and Ray Dillard (marimba, percussion & vocals).  My director Rae Smith and I have been working hard at turning the original cabaret-style show into... gulp... a real theatre piece – if you saw the original, there are a LOT of changes, although the essential message is the same.  And ohmygoodnessohmygoodness, I am so very excited about Joe Pagnan's set design, it still makes me giggly-teary just thinking about it!!!  In other words... if you saw the original, please come back, because it's gonna be soooo much better – and I still get paid even if nobody shows up, so I'm not just saying that for selfish reasons, I'm saying it because I'm really really really excited!
     Leslie and Ray and I spent the winter hard at work making the "cast album" for the show, which is currently in manufacturing, getting ready for opening night.  When I have a moment to breathe, I will be setting up sales via my website, iTunes, etc., but right now my top priority is memorizing my lines and trying to pretend I'm a real actor – I'll keep you posted, promise!  In the meantime, here's a sneak peek of the album cover, designed by Claudine Benoit of Zoup Creative, using the incredible photo by my friend Peter Stranks.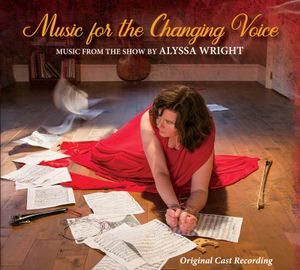 (That's the body of my grandfather's cello in the background, pieces of it strewn around me, my wrists tied together with cello strings, surrounded by his manuscripts, and maybe a ghost or two.  My original idea was to have my head hanging down, but at the last minute, Peter suggested a few shots with me looking up – it was a perfect suggestion, of course!)
     You'll hear a mix of my original songs, some classical pieces, the very first song I wrote (Coconut Humbug, Op.1), and the ever-popular More.  I sing, I play cello, I act, I dance – and sometimes all four at the same time.  Don't faint, but I'll probably wear makeup.  And there will be ice cream.  All this could be yours, act now!!!
     (And, hey, if you really don't like my not-a-one-woman-show, it's on a double-bill with another one-woman show, Newfie Electra – a darkly hilarious comedy about...  oh dear...)
---
***  IMPORTANT INFORMATION  *** 
     Okay, I realize I've just been spending time telling you how excited I am about the show, and how I want to share it with everyone, and how I really want you to come, BUT...  knowing the reason why many of you came into my circle, let me just say that this show comes with a GIGANTIC trigger warning!!!  (My stage manager doesn't believe in trigger warnings – I will be educating him.)
     There will be talk of childhood sexual abuse, and there will be a whole lot of talk about the culture of shame and silencing that allows such abuse to occur.  Yes, it has a "happy ending", but if you're feeling too fragile to subject yourself to such things, DO NOT COME.  I will not take it personally, I do understand the need for self-care and self-protection in such matters.  It has taken me decades of intense therapy to get to the point where I can be open and honest about such things (and I may be silently cursing myself for that whole "it's not art until I'm so terrified I puke" part of my creative process) – and I know not everyone else is on the same part of the journey as I am, and don't expect you to be.  Exercise your best self-care, and do not feel remotely obliged to support me with your presence, if it is going to cause you any sort of anxiety or dissociation.
     I have gathered a list of local resources that will be inserted in every programme, as well as fliers (and hopefully volunteers) in the lobby at intermission, should anyone be hit harder than expected by the subject matter, and need some ideas of where to turn.  I'll also be keeping a list via The Katie Project's website, katieproject.ca/resources (work in progress at the moment).
---
     If you've done a careful self-check and still wanna come – YAY!!!  Tickets are available via Talk Is Free Theatre: (705) 792-1949 or online, and you can see a bit more about the show and its sponsors (and see a really big version of Peter's photo) at the site here.  
     Okay, I think that's all you need to know for now.  And, fair warning, I will be pestering you again about album releases and fundraising and outreach projects once all the things are in place!