A rougher start to the day for Miss Macie.  She was up three times in the night, but it was to eat snow.  She was bloated up to 84cm last night, this morning 86cm, and now 87cm – and she's not feeling very happy about it.
She's also become wise to my hiding her meds in her pumpkin, and would have nothing to do with it this morning.  So I had to feed her her omeprazdole manually – which she didn't like, and spit it out and then crunched it, which releases the meds before they get to the place they need to go.  🤦‍♀️  Although I've seen no signs of internal bleeding recently (her poop is still quite yellow), so hopefully not too big a deal.
Her other morning meds seemed to go down with her (very small) breakfast, but she wasn't very interested in her kibble.
When I got home from dropping off Jasper, I found Gráinne playing with one of Macie's diuretics in the kitchen, so Macie has obviously started going subversive and spitting out her pills…
Managed to get them back into her (I think!) with some extra canned food.  She would eat the kibble that was mixed in with the canned, but once the canned was gone, she wasn't interested in the kibble.
She's very cold again, and her inner ears are pale (though her tongue still looks pinker than before), and she's needing some extra snuggles today.
I had a call in to the vet, and we're going to start giving her 3 diuretics per day instead of 2, and hopefully that'll help with the bloating.  They'll call back on Monday and see if it's making a difference, and if not she may get more, but they don't want to increase the dosage too quickly.
She's currently hanging out under the dining table, after some gentle snuggles.  I'm putting in a request for a fairy godmother.  Or maybe a free housecleaner and personal chef.  (Which are probably just as likely as a fairy godmother! 🤣)
Why does she always head to the down-side of the roller coaster just before the weekend?!?!?  😢😭
 
3:20pm edit
A neighbourfriend just came by and said that even though it feels like a big slip to me, Macie is looking way better than the last time she saw her, so... perspective is good!
11:40pm edit
She was able to get up on the couch later today - although clumsily.  She's still in good spirits, but only managed half dinner (think she's still uncomfy, although not groaning any more).  She's happily playing with a bone, so I'm not going to bug her to measure her just now.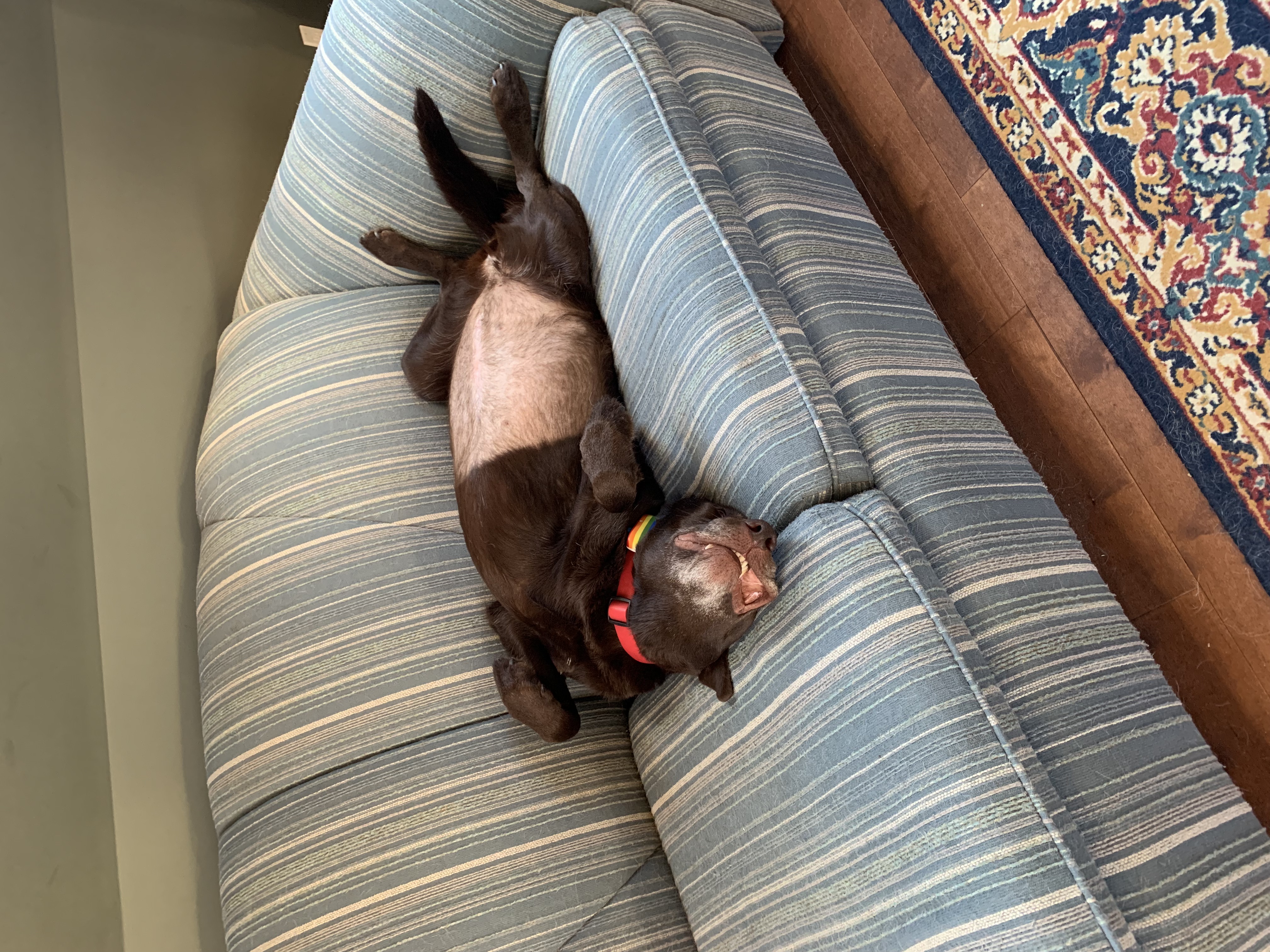 And in better news, Gráinne and Jasper are making friends.
https://youtube.com/shorts/Nk1rg6OoqeA