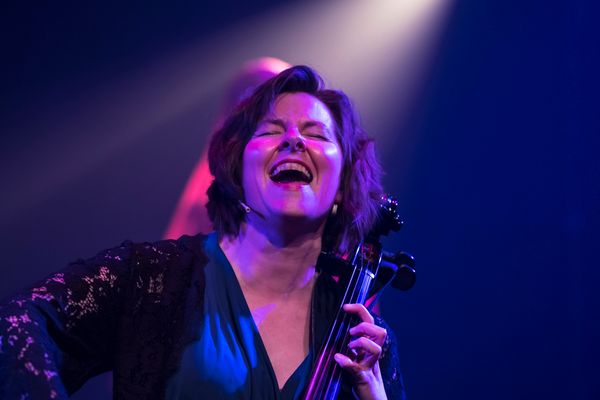 Hello everyone!
     I did warn you I'd be pestering you again, once everything was in place for the CD sales and Katie Project donations, and... ta-daaaa!  Here I am, pestering away.
     First off, those of you in the Greater Barrie Region (is that a thing?) have only FIVE MORE CHANCES to see the World Premiere of "Music For The Changing Voice" at Talk Is Free Theatre (April 25 - May 4).  Tomorrow / Wednesday's show is on the verge of selling out, and then there's only Thursday through Saturday evenings, plus the Saturday Matinee.  Tickets can be purchased via Talk Is Free here.
     You will note the new photo at the top – that's a live shot from the show, taken by Scott Cooper.  I'm going to post a few more below, all by Scott, but first I'm going to preen and strut my stuff and share a few amazing quotes with you (yes, it's the new Alyssa – be afraid, be very afraid!).
"Fiercely talented...triumphant feats of talent, passion, and genuine honesty.  ...Alyssa's story is one of triumph that holds a message that the world needs now more than ever."
[Broadway World]
"I already knew that Alyssa could ingest darkness and spit out light, but tonight she demonstrated how to turn vulnerability into kryptonite.  What a fantastic show."
[Wendy Smallwood]
"Thank you for sharing such a personal and powerful story."
[Iain Moggach, Theatre By The Bay]
     Are you still standing?  Because I've fallen over a few times...  There's a promotional video Richard Varty shot of my director, Rae Smith, introducing the show, and Ray Dillard and I playing one of the songs from the show, over on the Tube of Yous, here.  If you've got a little more time, I've also got a featured interview on Rabble Radio about the show over here.
     And then there are the photos...  Scott sent over almost 100, and it was so difficult to choose, but let's start with the one that I think encapsulates the show best: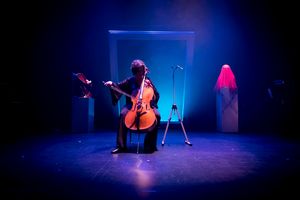 And since I can't decide on anything, let's just throw in some more, shall we?  (I'll be posting them on my website soon, if you want to see larger versions.)  Set design and lighting by the uber-talented Joe Pagnan.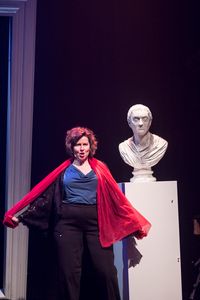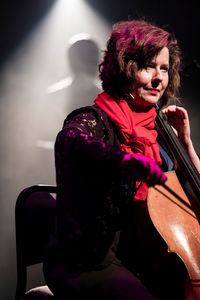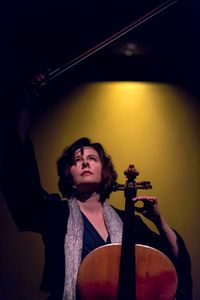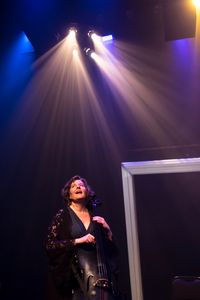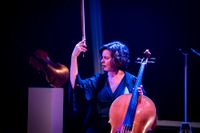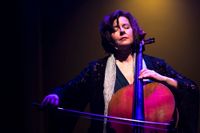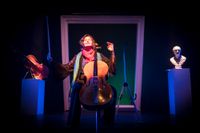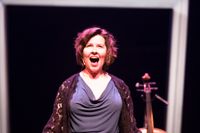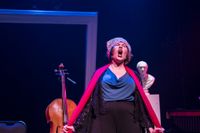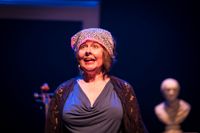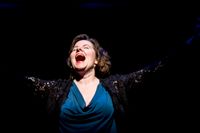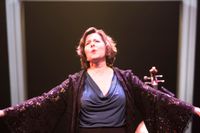 If you didn't read the press release, here's a quick description of the show:
     "Music For The Changing Voice" is a show about finding beauty in the broken, and a voice to oppose the silence.  
     "When my grandfather died, I inherited his cello – the first one I ever heard or played – which came to me shattered in many pieces, uplayable and unfixable.  Which kind of mirrors the other thing I inherited from him: the legacy of intergenerational interpersonal trauma.  
     "When I brought my grandfather's broken cello to the luthier and asked him what I could do with it, he shrugged and suggested "make art" – so I've chosen to do that with the other part of my inheritance as well!"
     Performing her original songs, music she was raised with, and even some tunes by the late Don Wright himself, Alyssa weaves together a tale about growing up in his musical shadow and under his silencing oppression – then eventually using the cello and the other tools she'd inherited to find her own voice, heal from the past, and turn even the most shattered bits into art.
Audience Advisory:
A path of hope and healing must include a starting point from which to recover.
Please be advised that this story touches upon the themes of intergenerational trauma and childhood sexual abuse.
If this story echoes some of your own, please exercise good self-care,
and take advantage of the local and online resources listed at katieproject.ca/resources
---
     As also mentioned earlier, Leslie Arden, Ray Dillard and I were busy over the winter recording the "cast album" for the show.  Online sales went live on preview night, so both CDs and digital downloads are now available at https://alyssawright.com/album/1064362/music-for-the-changing-voice.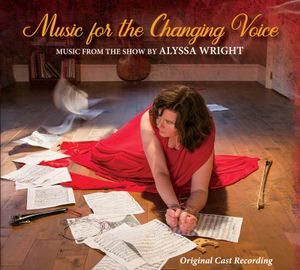 Net proceeds of album sales go to The Katie Project – with the aim of providing free copies of this album to related community organizations and their clients, as well as subsidizing future performances of this show for schools and community centres.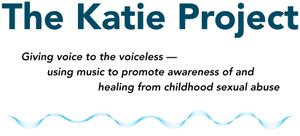 And speaking of The Katie Project... the organization is now an official entity, with a bank account that can accept donations (although we cannot issue charitable tax receipts yet).  Please visit https://katieproject.ca/donate to help us give voice to the voiceless!
---
     It's difficult for me to picture anything past closing night, but I will be supporting Barrie's other theatre company, Theatre By The Bay, on May 13, as part of the house band for their Stars Come Out gala.  It's going to be a great night, featuring headliner Mark Masri, host Raoul Bhaneja, Cornelia Luna, AJ Bridel, Alana Bridgewater, David Ball, Kyle Blair, Army of Sass Barrie, Alinka Angelova and Olivia Everett, and Moving Arts' Triple Threat Program.  Not to mention the amazing house band, led by Edwina Douglas, with Nate Douglas, Tom Fitzgerald, Allan Halford, Stuart Steinhart, and Moi!  Come support live theatre created in and for Barrie!
     The documentary Music Is The Medicine is wrapping up production, and soon to be released.  It features my story, as well as several other Simcoe-area folks whose lives were saved and healed by music.  The release showing is tentatively booked for Sunday, May 19, but the date and venue are still to be confirmed.  I'll keep local folks posted, and let the rest of you know where/if it can be viewed from afar.
     I'll also be getting back at performing on the sorta-folkie-side with my friend Michael Martyn as a double-bill offering (live concert taping TBA), and my sorta-classical-side with my friend Marilyn Reesor in our collaborative Frizzen Spring.  Yes, oh yes, I will now be pestering you more often than every few years...  The swan is soaring, my darlings!
---
     Creating and performing "Music For The Changing Voice", and finally birthing The Katie Project (after years of false starts) is the beginning of my absolute Dream Come True.  I am so grateful for all who have helped "midwife" both projects – both the cast and crew of each endeavour, but also those who shook your pom-poms and encouraged me on my journey.  There is a long series of naps in my future, and then a whole lotta pressing onward.  I hope you'll join me.
     And I do hope that spring arrives (and stays) in your part of the universe.  And I hope our paths cross in real life again soon.
Musically, and in tremendous gratitude,
Alyssa