As those who have followed my musings already know, September always feels more like a new year to me than January – even though I've not been a student for [cough cough] decades, and haven't even been a part of the school system since the early part of this century, this time of year always feels like a new beginning.  The nights start to cool down at the end of August, and I still remember the feeling of National Music Camp, as we tucked our clothes into our sleeping bags at night, so we could get changed without subjecting ourselves to the crisp morning air.  Knowing that once camp was over, it would be time to gather the school supplies, and face the new school year.  It's still the time of year when I dream up new projects and adventures, get back into some semblance of a routine, start fresh.
This year is similar, in that I'm excited for change.  But oh, so different in what that change is gonna be.
Personal sabbatical (from the root word sabbath - a time of rest)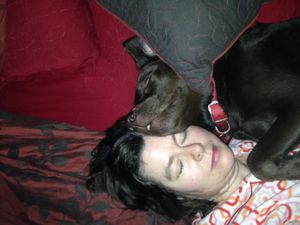 I forced myself, this year, to take a "real summer" – one that involved a lot of sitting and reading on the patio, or sitting on patios with friends, enjoying nature, the lakeshore a few steps away.  And, to be honest, it was sometimes a struggle to not fill the time with the to-do list.  There was much flogging, followed by flogging myself for flogging.
I did have great plans for catching up on many things over the summer as well.  Oops.
When my show ended, the beginning of May, I knew I'd need to give myself a rest.  I figured a few weeks would cut it, then I'd start to catch up on all the things I'd let slide since the new calendar year.  Then I felt those cool evenings creep in, and realized that it's already Labour Day, and I've only managed to catch up to March.  And, for the first time in a long time, I'm actually okay with that.
You see, while I expected to need time to recuperate from my show, I was NOT PREPARED for the depth and breadth of the resulting "vulnerability hangover".  While the summer goal was to sit and read lots of books, a lot of the time was spent sitting and looking at trees and then wondering where the previous four hours had gone.  Those two weeks of performances did me in.  As did the month of rehearsal.  As did the two months of recording the "cast album".  As did the half-year of editing and digging deep and learning how to act – a vocation that requires full use of your body, which requires that you inhabit your own body, which is a place I've spent a lifetime trying to avoid.  The rewrites had me searching through old diaries, clarifying timelines, coming to (finally) feel immense sympathy for the little kid I'd been, the big kid I'd been, the teenager, the 20-something...  and, dare I admit it, the 30-something and 40-something as well.  Many "ah-ha" moments, many insights, many scars opened up, many truths spoken (or just sunk in).
After two weeks of ripping myself open on a daily basis for total strangers to pick out my insides, I had exhausted my supply.  Of everything.  It was time for bandages and bubble-wrap.  The inbox could (and HAD TO) wait.  The accounting could wait.  Cleaning out the garage could wait (and wait... and wait...).
The summer edged closer to the end, and I had finished perhaps a tenth of what I thought I would have produced after a summer-without-commitment.  And then I laughed at the arbitrariness of Labour Day, when it wasn't like much was going to change, come September, since I hadn't exactly been doing anything to procure new students, new gigs, new projects.  And had a little bit of panic.  And then a voice inside shouted "What the hell more do you want from me?!?!?"
Me.  Space-time continuum.  Ridiculously unrealistic expectations of myself.  Still a part of me tap-dancing her ass off, in the hopes that she'll one-day be enough.  Who just realized a dream she'd had for decades, who'd almost got side-swiped by a car a couple of days before closing, and the thought that crossed her mind was "that's okay, even if this is the end, I've accomplished all I could have, no regrets."  Yet the bloody TaskMaster was still listing off the "shoulds".
What the hell more DO you want from me?!?!?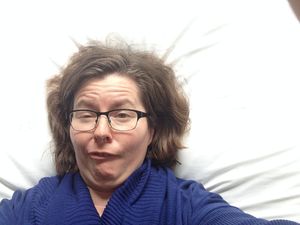 And I realized just how exhausted I still am.  How exhausted I have been for YEARS.  
The post-show bubble wrap is slowly being removed, but that hasn't given me a miraculous new burst of energy.  I'm ready to dip my big toe back into the pool of humanity, but I'm not about to swim across the damned ocean.
And OH! the internal arguments.  Oh, the "shoulds".  How tightly I've held onto the scarcity mentality, even though I'm finally in a place where I have more than enough to survive.  To take a day off.  To take a summer off.  To not force myself to return to the 18-hour days, 7 days a week.  (And, practically speaking, I've been in that "I don't need to freak out about survival anymore" place for seven damned years.  Why can I not let myself take even an afternoon off, without the guilt and angst?!?)
Just as my show forced me to take stock of, and put into perspective, the last five [cough, sputter] decades – recovering from my show has allowed me to take stock of, and put into perspective, the last 13 years.  And it's been a doozie of a 13 years.
I've been running full-throttle since 2006.  The year my grandfather died.  The year my (most recent, sigh) ex-husband and I got together, fuelled by crisis and chaos (note to future self: crisis and chaos is NOT the ideal way to start a new relationship!!!).  Six years of several threads of awful coming at us from every side.  And then, in 2012, all the chaos ended.  It was time for the happy ending.  No more health issues, no more legal issues, no more family strife, no more panicking over money, the world was our oyster, we could finally make our dreams come true!!!  D used to regularly muse, "what would happen if all my dreams came true?"  Well, we now have the answer – he'd blow them to smithereens.  Crisis mode resumed.  Escalated.  Took me until 2017, once we finally got him to agree to rehab, to give myself a moment of "pause", enough to realize I couldn't do this anymore.  Took my life back, but did so by saying "yes" to everything I had been unable to do in the years before – without understanding that, just because I LIKED the things I was saying yes to, and WANTED to do all the things I was saying yes to, didn't mean that there were suddenly an extra ten hours in each day.
This summer, the vulnerability hangover and sheer exhaustion after the past 13 years forced me to rest, to take stock, to come to the realization that I'm a mere mortal.  That I really miss early 2006, before the chaos began, when I would wander through my big ol' farmhouse in Cannington with my accordion strapped to my shoulders, just making stuff up for no reason, other than it sounded cool.  When I would play the guitar on the back porch at the end of August, watching the northern lights dance above.  When I played cello, not to practise for a gig, or work on my technique, but just PLAY cello.  Honouring the muse.  Creating to create.
And yes, I've created stuff in the years since 2006 – my show, some writing, a few songs.  But they've all been either created on a deadline, or have just refused to take no for an answer, and spewed themselves into existence, despite my "no time" protests.  I miss just noodling around and seeing what comes into existence.  I think I created some of my best stuff that way.  And even if that's not true, I sure ENJOYED creating stuff that way.  And miss that freedom.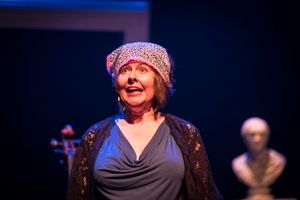 The bubble-wrap is slowly, s-l-o-w-l-y unwinding.  I'm starting to feel like it's okay to open up my heart and soul again.  I'm feeling such an urge to make something, though I don't know what.  But the burbling has begun.  I want to sit in my studio, play instruments I don't know how to play (I've got closets full of them), and see what happens.  I want to fall in love with my cello again, and see what happens.  I want to give myself the time and space to get past the bubble wrap, scare the hell out of myself, and then delight in how I get back out.  That's what I do.  Create a void.  Sit in the void.  Play with what shows up.  Lather rinse repeat.
I work brilliantly with deadlines, but I work best in a void.  Without expectations (mostly my own).
So, even though a big part of me is screaming "It's September, time to start something New and Exciting!!!", a bigger part of me is sitting back in the patio chair, and musing "It's September, time to start something different."
I was talking with my neighbour/friend the other day, about how I was fantasizing about NOT taking on new students in September, NOT getting back into the booking/self-promotion frenzy, NOT having a new project coming up, and she sent me this:
A sabbatical is an extended break from your job that gives you time to enhance your academic qualifications, reflect on your accomplishments and decide how to prioritize your life and career
or to take an extended rest period due to professional burnout.
Oh, my friends, I am currently a frigging POSTER GIRL for burnout – both professionally and personally.  I am still having to talk myself into getting out of my jammies before mid-afternoon.  I was worried for a while I was slipping into a depression, but I think I'm just too tired to bother dressing the way I'm "supposed to", especially when jammies are so damned comfy.  Even my inner knee-jerk rescuer takes a look at the wounded baby birds of the world and says "nah, someone else can do that."  Darlings, if I'm too tired to be codependent, YOU KNOW I'M FREAKING TIRED!!!
Reflect on my accomplishments.  Holy hell, I created a show, I learned how to act, I produced an album, I founded the Katie Project, I compressed decades of therapy into eight months, I spoke truth to power, I helped and inspired many women and survivors, I met new friends, I hosted many events, I helped with movements I feel strongly about, I lost 20 pounds, I was part of a documentary on music & mental health, I raised two dogs, I dealt with exploding radiators, exploding dryers, random freaky accidents, I learned to take better care of myself, I... do I really have to keep going?  WHAT THE HELL MORE DO YOU WANT FROM ME?!?
My sister, a university professor, is on her second sabbatical year since the 2006 chaos began.  It's built in to her profession.  It's not even remotely on the radar for self-employed creative types like me.  But maybe it should be.  I mean, research and teaching is hard work, but probably not on the same level as ripping out your guts every day in front of total strangers (many of whom feel free to tell you you're ripping your guts out wrong).
There I go again, intellectually justifying the thing I know down to the core to be true.  I need to NOT DO.  I need to take a break, trust that the world will live without me for a while. 
I mean, I'm still me.  I'm not going to be sitting on my arse eating bonbons – I do have a number of things lined up for fall, but a) they're fun, and b) I think I've scheduled them with a more realistic grasp of my place in the space-time continuum (we'll see).  I may need some subtle and not-so-subtle reminders that I'm giving myself a break.  That's why I'm putting this here – so y'all can bookmark it and hit me over the head with it when it becomes necessary.  I'm counting on you.  (Be gentle.)
The duration for a sabbatical is typically one year.
Okay, THAT LONG a commitment kinda freaks me out right now.  I've promised myself six months – extension open to negotiation.  No expectations.  Six months of exploring where the muses take me.  No novel, show, or album is expected, just exploration and play.
So the next time my lungs reach up into my sinuses when someone asks me "what's your next project?", I will shrug and – instead of writing a 40-page essay (oh, Alyssa...) – say "nothing, I'm on Sabbatical!"
It's in writing now.  On the internet.  So it MUST be true.  ?
And now it's stopped raining, so the dogs and I are going to sit on the patio and look for northern lights.  What more could you want from me?