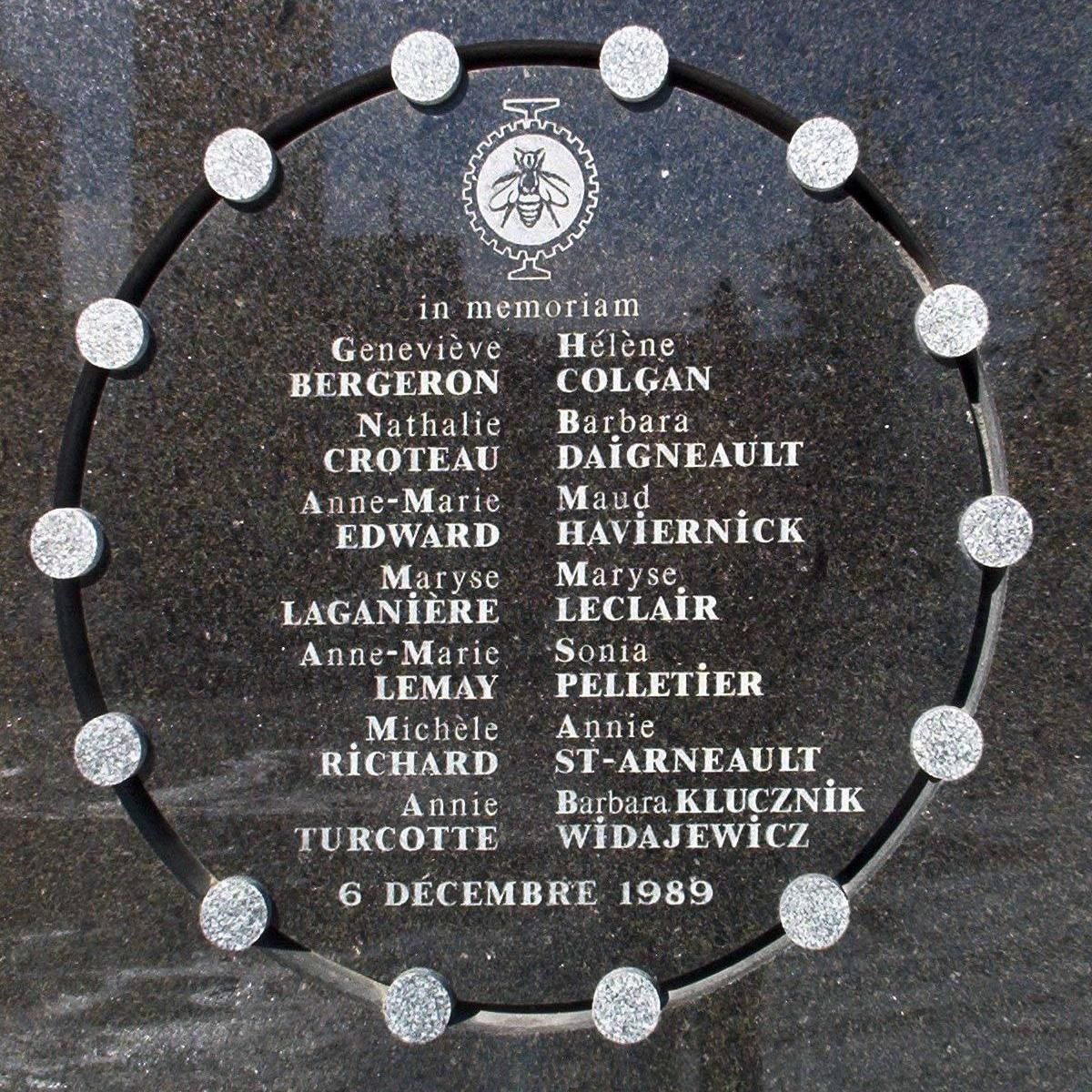 It is a day to mourn the 14 young women killed for being women in training for what was once a male-dominated field. 
But we shouldn't forget that most violence against women is created by the people we live with. Not in a classroom with a stranger, but at home (and, in my case, in the car) with the people who claim to / are "supposed to" love us, who even present themselves as "feminist allies", who have created the facade of a lovable, stand-up guy, so that nobody else would ever suspect the horror you have to face daily, as you wonder "what'll it be today?" And twist yourself in pretzels trying to make sure you do nothing to trigger it. 
(Hint: it ain't you – unless you agree that "breathing weird" was a good reason for my ex to nearly kill me in 2016, I think it's safe to say that abusers will come up with whatever justification they can think of for their violent behaviour, in order to avoid taking responsibility for their own behaviour.) 
For me, it started with being treated like an object (later, a non-entity), and I quickly became the one to blame for all his lousy decisions.  It escalated to him slamming doors in my face, towering over me in rage as I wept crumpled on the floor, punching the walls next to my head, getting his fists ready every time I started to talk. And eventually, what all our therapists (yes, there were many by that point) deemed a failed murder-suicide attempt, in the aforementioned car. (And yet, I stuck around 5 more months, in the hope that addictions treatment would change him… 🥺) 
DO NOT LET IT GET TO THAT POINT. If you are not treated fairly or respectfully in the beginning, you will not ever be able to "earn" fair or respectful treatment. 
And, SPOILER ALERT: YOU DON'T HAVE TO EARN FAIR OR RESPECTFUL TREATMENT. It's your goddamned birthright. If someone is not able to give that to you, move on, move on fast, do not pass "Go", do not collect $200, just move on, because YOU DESERVE BETTER (yes, really – no matter what you think you might have done or what's "wrong" with you, you freaking deserve better!!!!!)

It took me far too many decades to get to that point. I don't want anyone to have to go through the same journey. If you need help, if you're in doubt, if you want some resources or pointers or just someone to sit with you as you work it out on your own, I'M HERE. This pandemic has increased the rate of femicide and partner violence – all I keep thinking is "there but for grace" with the timing for my own life. 
Grace has been good to me, but she's elusive, and can't be everywhere at once. Sometimes you have to rely on the mere mortals. Reach out. To me, to friends, to the Women & Children's Shelter of Barrie or your local shelter or women's organization (note: you do NOT have to wait until you need emergency shelter, calling them doesn't oblige you to do anything, they're there to support and help you find the safest way to handle things on your own terms). 
Let us help KEEP YOU ALIVE, and remind you that YOU ARE LOVED (and love doesn't fucking hurt like that). 
Never forget.  ❤️
For those of you not in this position, but who want to learn more about the issue (and actions needed long ago), Katherine Scott wrote a great piece for the Monitor today, "Where's Canada's plan to end gender-based violence?"